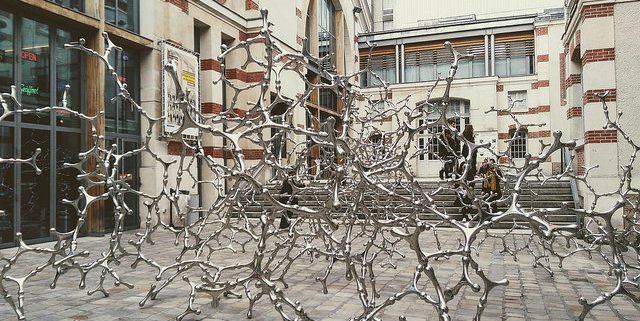 On Societal & Digital Mutations
I love learning on the go from podcasts. Lately, I have re-discovered a podcast brought by Martin Lessard: M2 – Mutation numérique. As put on his website in French:
"M2, c'est pour mutation au carré! car le numérique accélère comme jamais le changement dans notre société.

Je partage des conversations avec des gens d'ici qui réfléchissent sur les enjeux du numérique."
Translated:
"M2 is for mutation² because digital accelerates as ever change in our society.

I share conversations with people here who are thinking about digital challenges."
I recalled especially one episode that caught my attention: M2 #16: Conversation avec Jon Husband (32 min.) «Société en hyperlien» [M2 #16: Conversation with Jon Husband (32 min) Society in hyperlinks], and that I will revisit as I pay attention to megashifts and wirearchy.
"Wirearchy – organizing principle for interconnected participative era. Implications for business models, organizational structures, leadership & management development" — @jonhusband
I also intend to revisit the ebook 'Wirearchy', that Jon Husband co-wrote with other people from his global ecosystem.
Some of those co-authors are people I exchange with and have interacted with over the past few years such @elsua @smartco in person and / or via social tools. For some of the other authors of that ebook, we are connected via Twitter, and I have under my radar what they share on social, and what they are up to via their blog, website and any other sources.
Worth viewing, too this video from Michel Cartier du site web 'Le 21ème siècle'.
On Community Management & Work Culture
"Fundamentally, all community management is about connecting dots (people and information) so the community, group, or organization can be more efficient. #cmgr #KM #ESN" — @rhappe
"@rhappe: So it does involve hyper-cooperative & collaborative behaviors shifts as @simbeckhampson shares: https://twitter.com/simbeckhampson/status/692597380793901056 I guess that @TheCR has figured this out: https://communityroundtable.com/what-we-do/models-and-frameworks" — @rotanarotana
On Learning & Humanity

I like the idea of combining STEAM (A for Arts) with HECI (Humanity, Ethics, Creativity, Imagination), that Gerd Leonhard suggests in this blog post. What if Complexity is also included in HECI? That would become HECIC. The Complexity Labs is a pretty good online platform to dive into the world of complex systems and its application.
Taking control of our own learning also matters:
"(…) your learning potential is partly dependent on your own personality, with traits like learnability, curiosity, and openness to experience being key." — @drtcp
How do you bring your own learnability?
Enjoying my posts?
Get in touch to discover how we can work together.
https://rotanaty.com/wp-content/uploads/2018/03/learnability.jpg
480
640
Rotana Ty
https://rotanaty.com/wp-content/uploads/2018/08/Rotana-Ty-Logo.png
Rotana Ty
2018-10-31 06:00:49
2019-09-24 05:41:20
On Mutations, Community Management & Learning