An Agile Project four month Management Program I have completed from 3rd September to 21st December 2018 with the Grande Ecole Numérique and Le Cube, the digital creation center in Issy-Les-Moulineaux, near Paris, France.
This learning program was designed and coordinated by Julien Keita, campus manager of the Cube School and an ecosystem of 32 trainers / coaches / facilitators from the public and private sectors in France.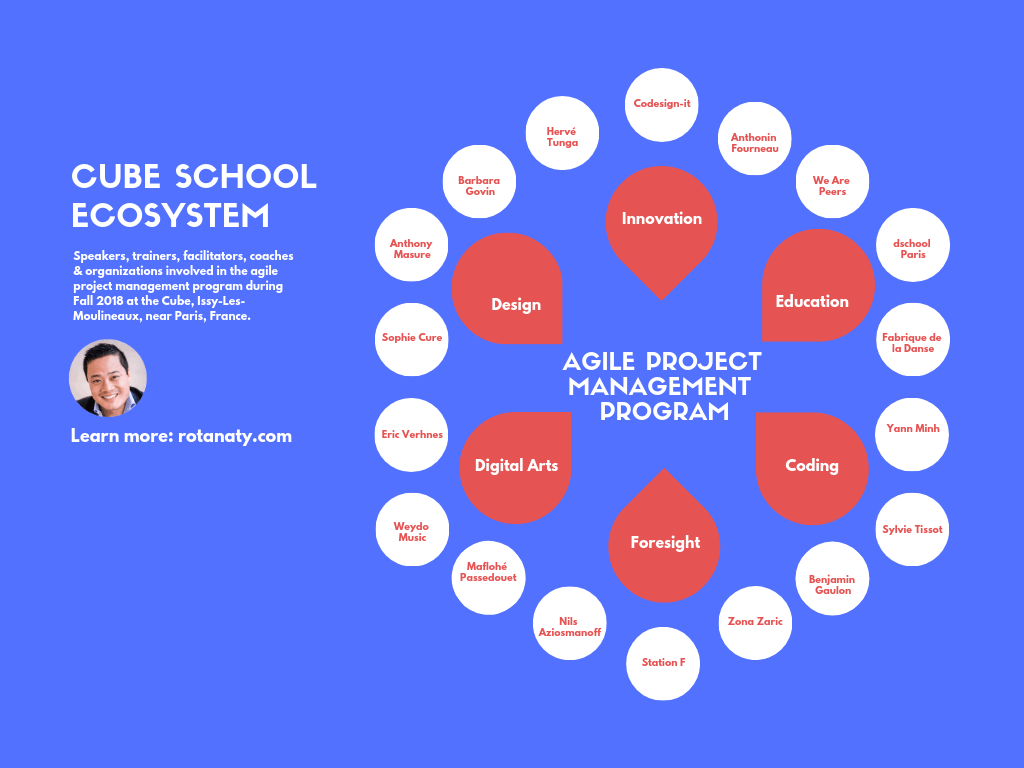 What happened?
Below is the timeline per week of the learning program. Noticed that the adventure may continue as I explore the possibilities to enhance Cube School with the campus manager and few Cube School fellows.
What did I learn & do?
I have used Google Jamboard to map my learnings in terms of skill set and roles I have played in multiples projects at the intersection of digital arts, innovation and education.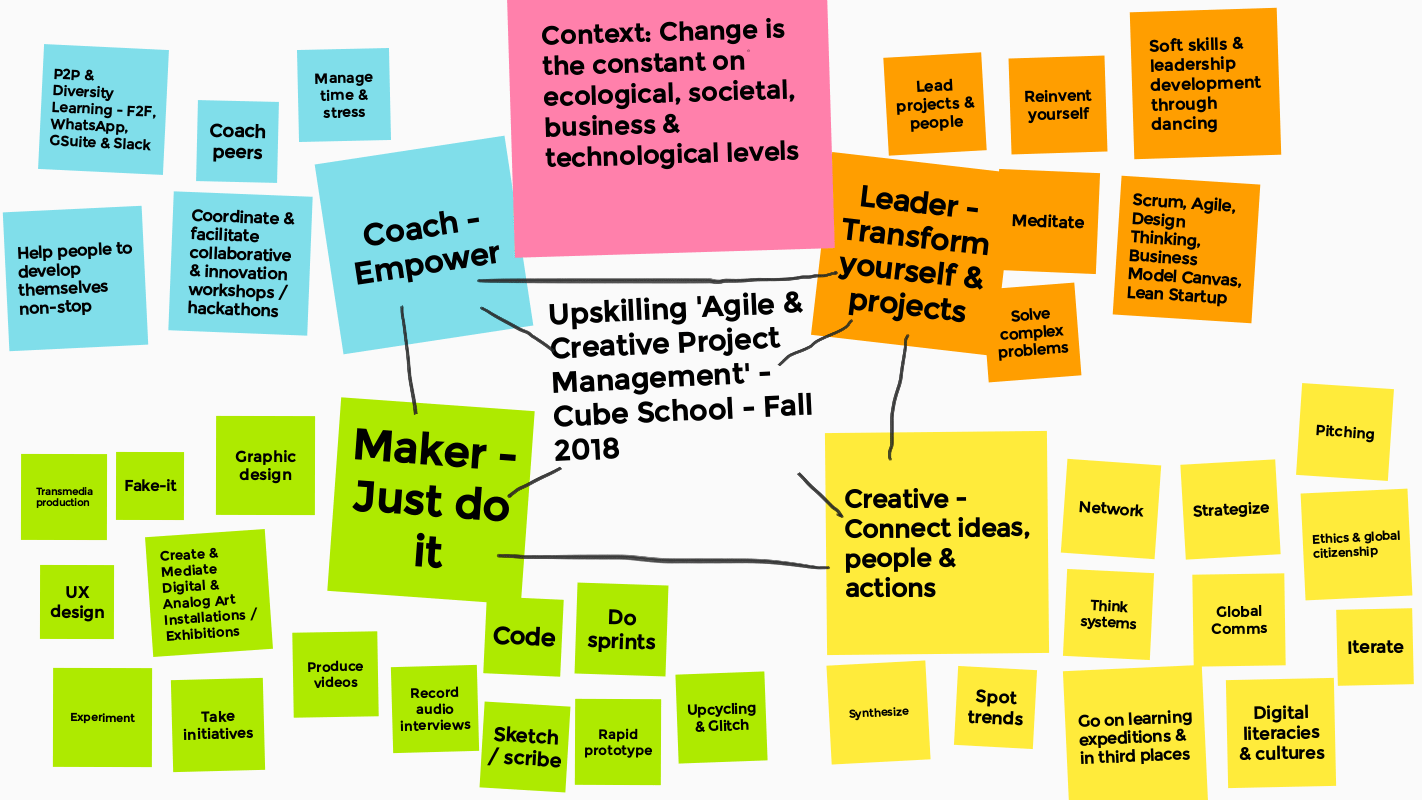 What does my portfolio of projects & practices look like?
Check out below the video. It is a collection of videos produced by Cube School Fellows & some trainers during the four months Agile Project Management Program, Fall 2018.
This video is shown between December 21st 2018 and mid-January 2019 at the art and tech exhibition 'The Art of Doing, Doing the Art' at the Cube, Issy-Les-Moulineaux, near Paris, France. The purpose is to show highlights of the four months upskilling program inside and outside the Cube School. Working and learning out loud, and with fun with smart creatives.
Check out below two infographics I have created to give you overviews on:
Projects I have done with my respective teams, trainers, facilitators and coaches.
Practices I have developed and sharpened due to new contexts, constraints and social dynamics.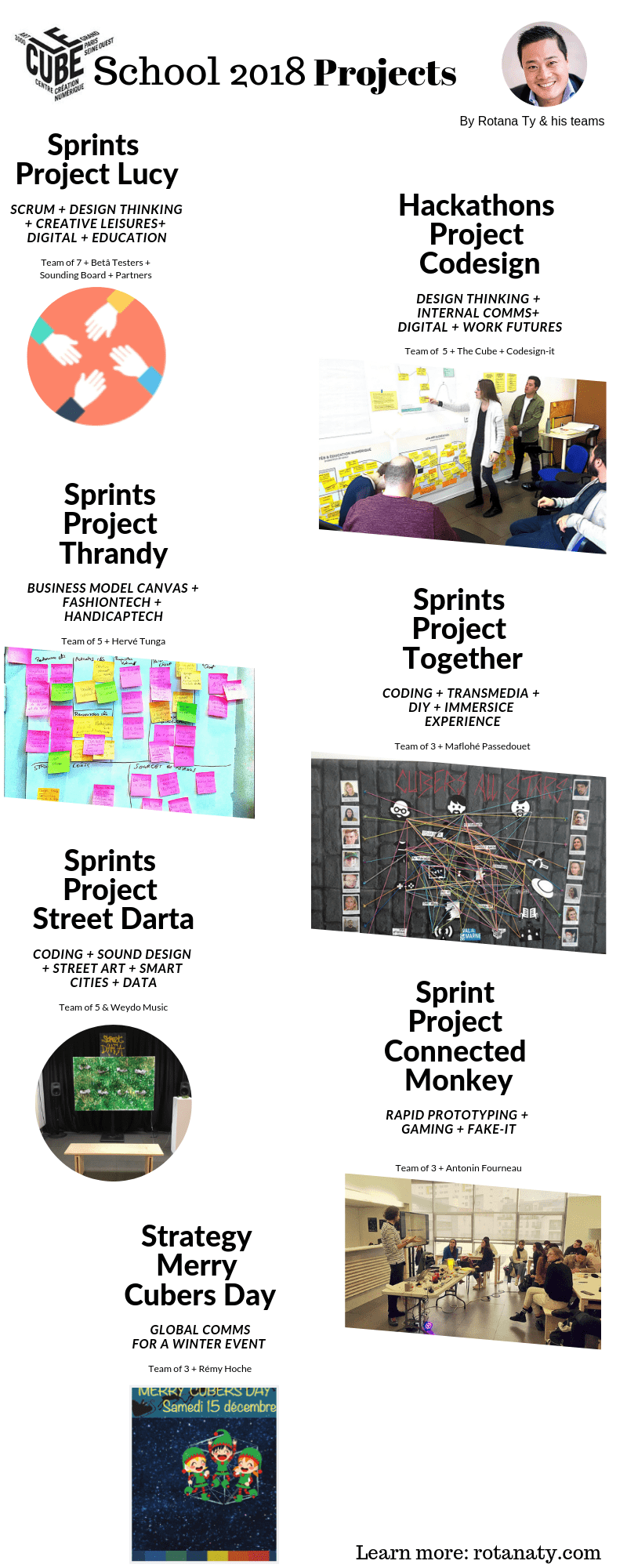 "I highly recommend Rotana for his capacity to analyze complex situations, his expertise and insights about the importance of soft skills and for his ability to set actionable plans. It was a great pleasure to work with him !" — Julien Keita, Campus Manager of Le Cube
"Rotana keeps learning, giving and receiving! He makes his curiosity his best friend to catalyze each detail and put himself into perspective. I was lucky to experiment with him more than 500H of projects' management, in collective intelligence, through Digital Arts. I encourage all his future collaborators, partners and learners to be inspired by Rotana insights! He likes experimenting to perform agilely and enduring! Hands in the soil and head turned to the sky, Rotana is an entrepreneur who does not leave the flow, whose energy moves along as generously as virtuously! Like an explorer (tech), he selects, synthesizes and shares the best to share with you insatiably." — Anne Kazuro, co-learner at the Cube School and upskilling on codesign at Codesign-it
Stay tuned for a series of blog posts to rewind each week and 'learning by doing' activity.

I unpack and share what I have learned and worked out loud with the ecosystem of the Cube. 
Enjoying my posts?
Get in touch to discover how we can work together.
https://rotanaty.com/wp-content/uploads/2019/01/Cube-School-peers-1.jpg
2048
2048
Rotana Ty
https://rotanaty.com/wp-content/uploads/2018/08/Rotana-Ty-Logo.png
Rotana Ty
2019-01-06 17:18:19
2019-04-23 07:30:27
Cube School - Agile Project Management Program: WIIFM?