Here are the resources to imagine a bright future and our ability to learn together. Selected by Rotana Ty for the week 25th February-3rd March 2019.
Via my network
"Collectively we're intelligent…"  — @simbeckhampson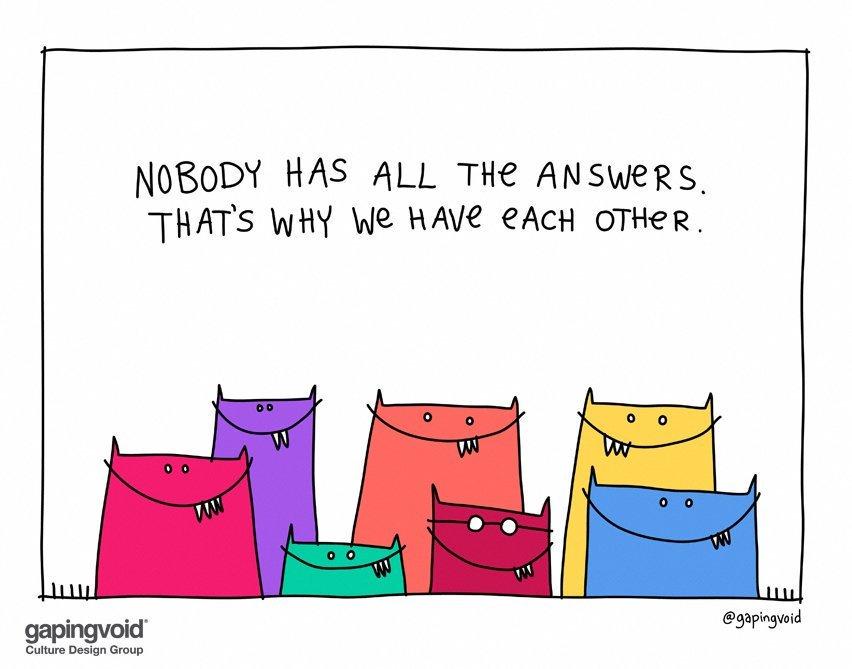 Source: gapinvoid – Culture Design Group
"Language of successful managers:

1 how can I help?

2 what do you think?

3 your work matters

4 I trust you and our team

5 I appreciate your commitment

6 thank you for working hard

7 I was wrong, I am sorry

8 your career path is my priority

9 do you have the tools to succeed?" — @ValaAfshar
"Interesting research on meetings: — Sit-down meetings last 35% longer than stand-up meetings, with no gains in effectiveness. — One person usually leaves a meeting feeling good about it: the leader. — Agendas are overrated, premortems are underrated." https://www.wsj.com/articles/the-science-of-better-meetings-11550246239— @DanielPink
"Play is our brain's favorite way of learning." ~ Diane Ackerman HT @flowchainsensei @LifelongAttempt
From Rotana Ty's Blog
On Reflecting, Third Place and Meta Plan
"we should focus on the behaviors that will allow people to remain constant learners, and the other skills that make people curious, creative, and connected."
On Sensemaking, Evolution and Connectedness
"I am drawn to ideas that remain resonant across time & space, across cultures & civilizations." – @brainpicker
On Earth, Connectedness and Bridges
Disconnect to connect the dots (people, ideas, actions, projects, places), right? What I noticed and wrote about, too.
Enjoying my posts?
Get in touch to discover how we can work together.
https://rotanaty.com/wp-content/uploads/2019/02/ci2.jpg
3120
4160
Rotana Ty
https://rotanaty.com/wp-content/uploads/2018/08/Rotana-Ty-Logo.png
Rotana Ty
2019-02-24 18:32:32
2019-02-25 13:32:28
Learning Digest No 6