In my previous post, I wrote:
In an upcoming blog post of this series on the agile project management program I have completed, I will share more learnings and applications of what I have learned from agile methods I experimented with my diverse teams and the specialist, Hervé Tunga. Stay tuned!
So this blog post is all about that. From 10th September to 21st December, one of the core 'learning by doing' activities of the agile project management program, that I have completed at Le Cube, was on discovering, experimenting and honing agile project management / methods.
8 days over 4 months to Master the Basics of Agile Project Management
We experience a module of 15 half-days to teach core practices to drive any project with direct application to digital and innovative projects in which fellow agile project managers have discovered how to:
● Present a project
● Take into account parameters and constraints of a project
● Identify and take into account the different stakeholders of a project
● Implement project management techniques
● Plan a project and assess its feasibility
● Take charge of various digital project management tools
About the facilitator / specialist
Hervé Tunga is an IT development engineer, international trainer and life coach. He developed his
project management experience over 15 years. His journey includes 3 years of office management in a Junior Enterprise Belgian, and over 15 years of local project management and international organizations within a European organization (Board of European Student of Technology): from events to projects IT development, marketing, and training.
As well as more 7 years of IT development in business. First as IT Project Manager during a final internship in England and, since 2011, a Development Engineer within the Altares group D & B.
Hervé's learning approach was fun and helped us experiment solid agile methods. He served and coached each team on projects with impact while we developed and strenghtened our hard and soft skills.
Project Management Milestones & Approaches We Explore
Agile Project Management
Design thinking
Digital entrepreneurship
Agile methods: SCRUM, lean startup
Community centered projects
For each project, we scoped the impact and efforts that were involved before we even start doing it in team.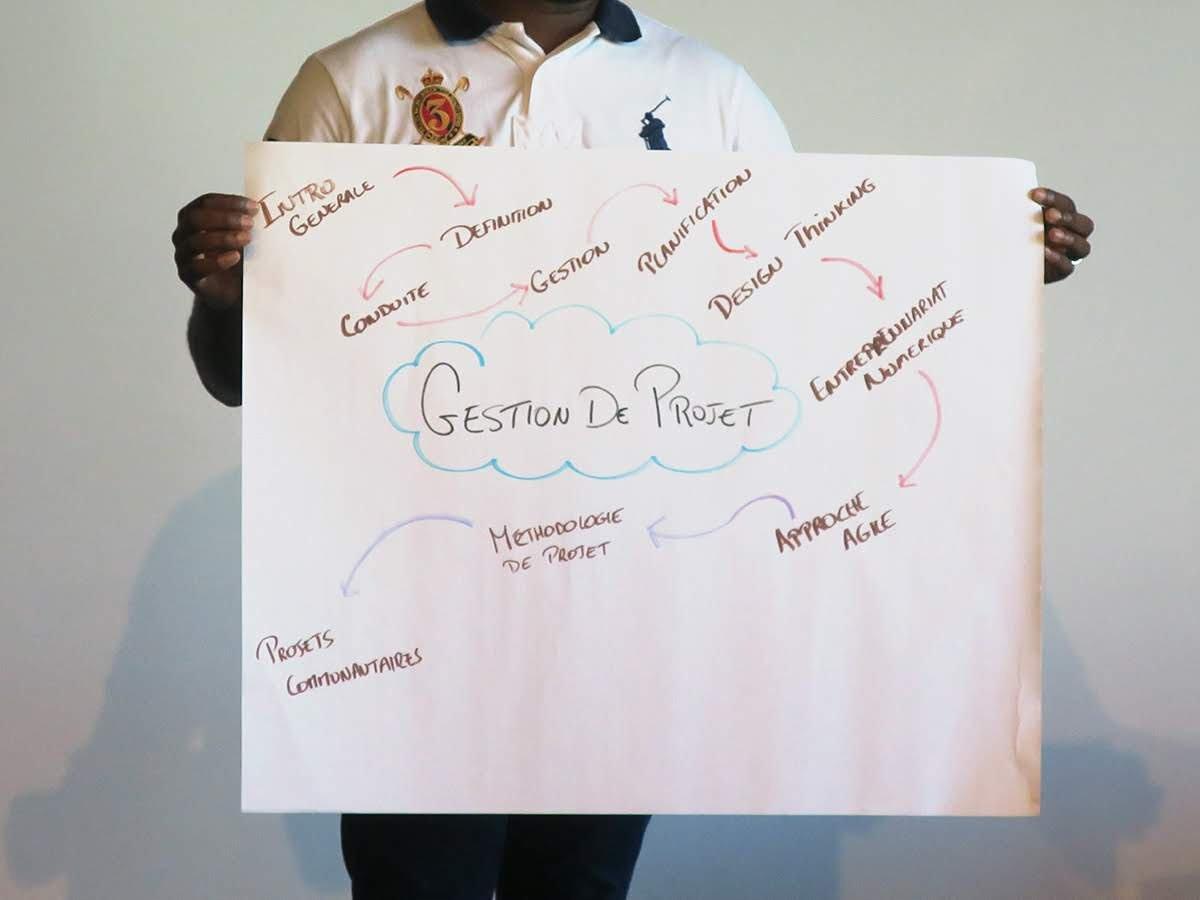 While we narrate our story and pitch the project to other teams and the trainer, Hervé Tunga to test the water, we iterated our business model canvas many times over workshops as we got feedbacks. Hear in French the pitch of Tr-Handi. If you cannot understand French, consider to explore a pitch deck in English over here. Today Tr-Handi project is gaining attention from peers and through a crowdfunding campaign.
Below are the words from the instigator of Tr-Handi and the association Handipreneurs, that support game-changing entrepreneurial initiatives for disabled people, share about the the story of the instigator and the purpose of Tr-Handi:
"At the age of sixteen, I lost an important part of my right hand in a serious scooter accident. During an internship at PHILLIPA LEPLEY's, wedding dress designer in London. I decided to create my own stylish glove to embellish my damaged hand. By creating my first glove prototype I had the desire to go further. Why not an everyday life glove? Not only extremely casual but also beautiful and convenient. And a glove for my water skiing competitions? And what about a sailing glove to participate in la Route du Rhum in 2022? And what if my personal researches could help some others? We are thousands in my case. Tr-Handi wants to help all those that dream about turning their disabilities into strengths."
Consider to contribute to this meaningful project. You can do so over here.
Enjoying my posts?
Get in touch to discover how we can work together.
https://rotanaty.com/wp-content/uploads/2019/03/Workshop-Agile-Project-Management-with-Herv_-Tunga-at-Cube-School-Issy-les-Moulineaux.jpg
768
1024
Rotana Ty
https://rotanaty.com/wp-content/uploads/2018/08/Rotana-Ty-Logo.png
Rotana Ty
2019-03-17 11:04:40
2020-05-16 07:13:46
Agile Project Management Program: Experimenting Main Methods