As we are heading toward the end of the year, I use another way to review 2019 and to recalibrate for 2020 and beyond as I started doing so over my post 'Focused in 2019'. This time, I use an oldie I published in 2017 on being and becoming a modern professional learner. I wrote:
As we are heading toward the end of this year, I read the ebook 'How to become a Modern Professional Learner' by Jane Hart @C4LPT. It contains many questions for helping me to reflect and experiment while learning continuously.
What is the most important reason for you to become a modern professional learner?
In 2019 and beyond, it is this reason I shared in 2017:
Taking charge of our own professional development and self-improvement depends on ourselves.
What are your strengths & weaknesses in the workplace?
I did the StrengthsFinder Assessment brought by the Gallup Center, here are my top strengths.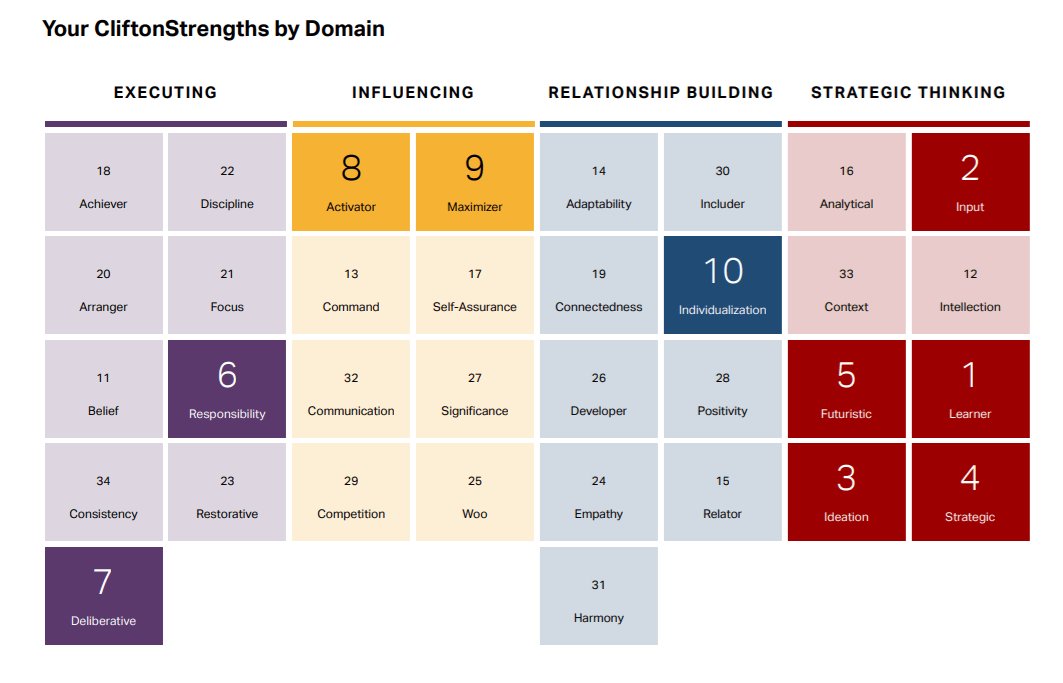 It seems that I lead with strategic thinking. In other words, it means that I constantly absorb and analyze information that informs better decisions. I stretch thinking for the now and the future.
What have you done so far to develop your skills & knowledge further?
Education
Reading books on Kindle, ebooks, paper books. Business books and non-fiction books. 
Doing curation and sense-making, writing.
Watching documentaries.
Exploring third places and cities.
Learning from podcasts.
Experience
Learning over projects and innovation cultures, and workshops I animated. 
Engagement
According to the engagement assessment from Scott Gould, this is how I engage: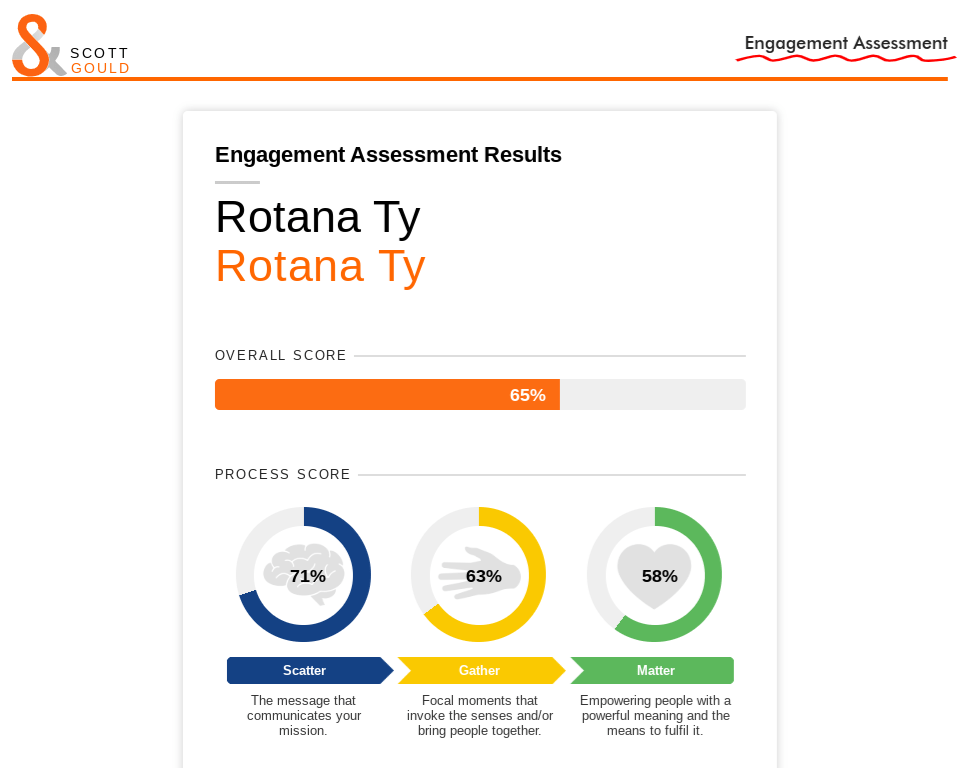 From January 13th 2020, I participate during 60 days in the workshop and global community 'Personal Knowledge Mastery' with Harold Jarche, that I met a few months ago in Paris over lunch.
"The Personal Knowledge Mastery workshop is conducted over 60 days, comprises 18 activities spaced through nine weeks, in addition to resources, links, and tips. Each Monday & Thursday a new assignment is posted in the online community space. People can work on their own or share in the discussion forum with other participants as they like. Harold is available to personally support all participants. At the end of the workshop, an additional week is provided for reflection or catch-up, so participants have access for ten weeks in total.

The discipline of PKM helps to develop four core work skills, identified by the Institute for the Future:

sense-making
social intelligence
new media literacy
cognitive load management

This workshop has had hundreds of participants from around the world. Open workshops are scheduled several times per year, depending on demand, and participants work as part of a cohort to encourage social learning."
I also go deep into futures thinking practices by doing this online course: Ready, Set, Future! Introduction to Futures Thinking, that is brought by Jane McGonigal from the Institute For The Future.
Do you want to think about the future with more creativity and optimism? Do you want to see what's coming faster, so you can be better prepared for disruptions and more in control of your future? Do you want to get better at changing what's possible today – in your company, your industry, your community, and in your own life?

This course will introduce you to the practice of futures thinking, as developed and applied for the past 50 years by the Institute for the Future, a Silicon-Valley-based research and learning group founded in 1968. In this course, you'll build your understanding of what futures thinking is and what you can do with it. You'll master essential foresight techniques. You'll meet some professional futurists. And you'll choose one or more future topics you want to investigate with your new foresight skills.

This course is for anyone who wants to spot opportunities for innovation and invention faster. You can gain the skills and confidence to help YOU become someone who makes the future, instead of letting the future happen to you.
Consider learning more about the 70:20:10 or 'Experience, Exposure, Education' principle / lens via this blog post by Ryan Tracey (@ryantracey).
Which of the ways you need to focus on to develop (or enhance) a growth mindset in yourself?
View challenges as opportunities.
Try different learning tactics.
Cultivate grit.
I am reading the book of David Amerland, 'The Sniper Mind', and will use the resources being produced by David. As he puts on his website this book is about: "Eliminate Fear, Deal with Uncertainty, and Make Better Decisions".
How much time will you commit to continuous planned learning? When will you do this?
Travelling : can be few days or weeks.
Which tool for your own work journal?
Google Docs. WordPress. Moleskine.
Which of the productivity suggestions do you use?
Track and limit how much time I spend on tasks / project.  Take regular breaks
I use the Chrome extension 'Easy Timer' to ring a bell every 30 minutes to take regular breaks. I also track my time and energy using Toggl on my laptop and phone to see where I spent them per task, project, client.
Unplugging also while savouring a cup of tea or coffee, sports, and setting aside my phone in the evening and during the weekend.
Hold standing meetings
Doing so if I have a video / audio call via Zoom / Google Hangouts. I use the K2-Laptop Stand Portable, Foldable & Height Adjustable: a tool for my standing desk anywhere.
Take advantage of my commute
I often keep learning when I am on the go. If I wait for my train / bus / subway / tramway, I may read the contents I saved via Pocket or Kindle.
While commuting, I may also hear a business / music / scientific / cultural / food podcast via CastBox. I take notes on my moleskine if I hear insights and practical advice. It is a great way to keep to update with industries, emerging practices, people, places, experiences, ideas.
Turn off notifications
Done that on devices I use. I engage when it is meaningful and timely to do so. 
Why to hire me?
I pay attention to behaviors and actions from people and organizations that are described below:
"The basics of a personalized candidate experience

There's a mix to find between human and automation and it's understandable that automation can prevail until the enterprise decides to interview the candidate, but there are some basics no one should forget ;

1) Personalize

2) Show attention, care

3) Have a relational approach

4) Adopt long-term thinking." — Bertand Duperrin @bduperrin
I would also do some digging through research and conversations to see if the organization and its people are focusing on:
Meaningful professional engagement.
Having a societal, business and/or environmental impact. 
Collective growth and personal development. 
Working and learning out loud.
What takes you out of your comfort zone & help you build new skills?
As shared in this post, I think that it could also be about going beyond one method, approach, framework, process like systems thinking, design thinking or any approach. It is really about mixing up different approaches for shaping our own cornucopia.
What are your own teamwork skills? What do you need to work on?
I tend to think critically and listen to my instincts before making a decision. I also ask myself: what are the possibilities?
As I love learning and connecting the dots, I see myself as a deep thinker.
I also believe that identifying / using our uniqueness and skills is how we matter.
It is about building on each other's ideas while co-creating and adding value.
I also learned that writing down answers to questions such as: why, what, who, where, when, how, and identifying the context and the benefits of a project or an action, can help to summarize and clarify what has been said, thought and felt during a meeting. After sleeping on the answers for a while, they can be revisited and iterated if needed.
I bring my energy, enthusiasm, curated and new ideas when possible for propelling teamwork.
Why do you share?
To develop and nurture relationships, to make sense of our world together. Personal Meaning Ecosystem makes us interesting as we engage in networks and conversations.
Why & how do you grow your own professional network?
As put in this post:
"It is all about the deep, meaningful connection @rotanarotana" — @marciamarcia
How are you going to ensure you don't just collect dots – but actually connect them? What process will you use?
Ways insight patternist and sense-makers use. Blogging.
How do you record your progress & reflections?
This blog and my 'why Rotana Ty' page.
What does your Modern Professional's Toolkit look like?
For more read on this blog post on resources I use.
What are my 2020 extensions in a nutshell?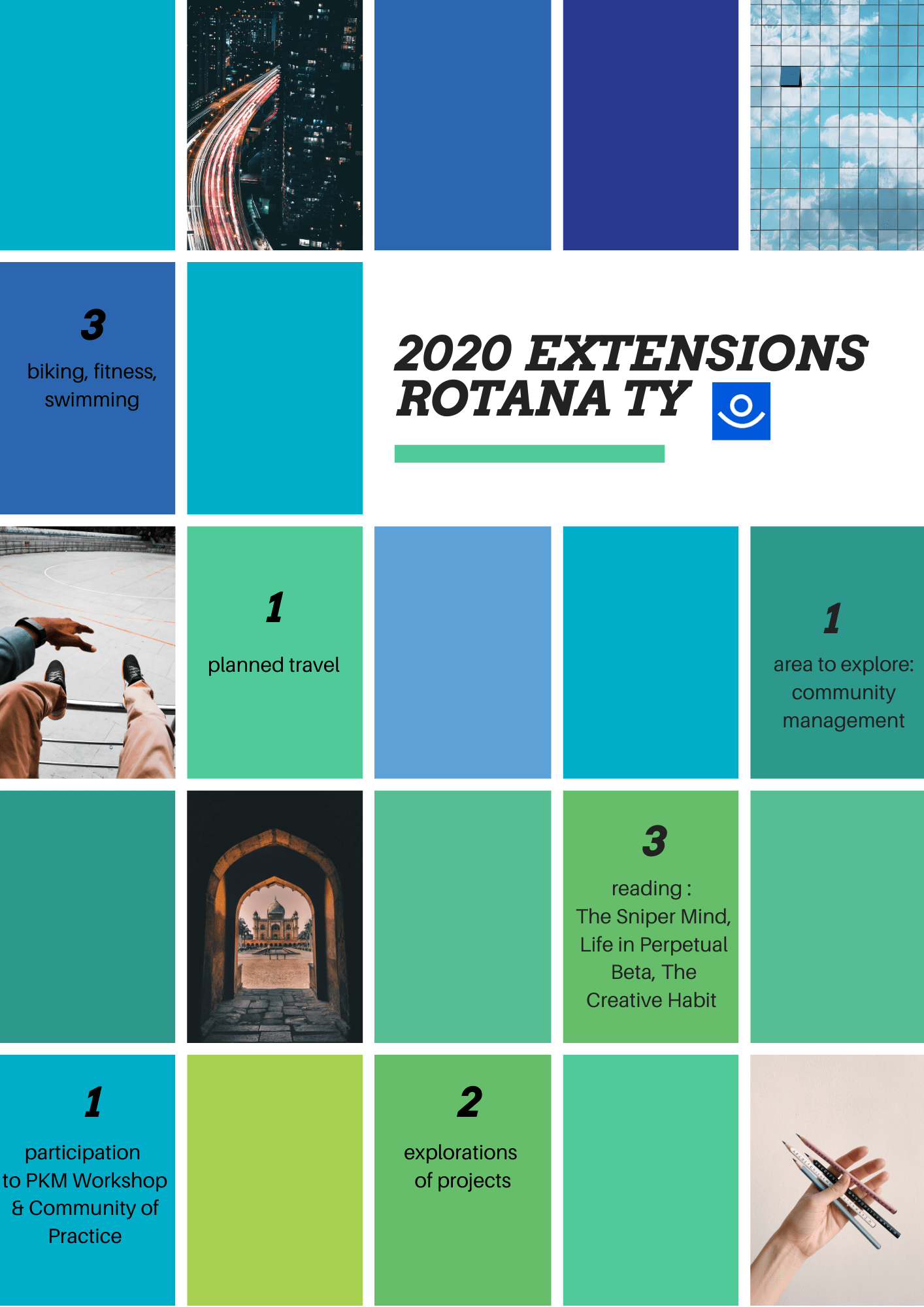 Enjoying my posts?
Get in touch to discover how we can work together.
https://rotanaty.com/wp-content/uploads/2019/12/DSC_0106.jpg
4000
6000
Rotana Ty
https://rotanaty.com/wp-content/uploads/2018/08/Rotana-Ty-Logo.png
Rotana Ty
2019-12-16 20:51:56
2020-01-14 16:15:39
Focusing