SHIFT
S:tay Present, Healthy, Fit and Resilient
H:ave Opportunities for Co-creation, Cooperation and Collaboration
I:ntrospect to Rediscover / Map Yourself
F:ocus your Attention and on what matters
T:rust Your Learnability
Neo-Generalists
"Neo-generalists are stewards of the future." — Kenneth Mikkelsen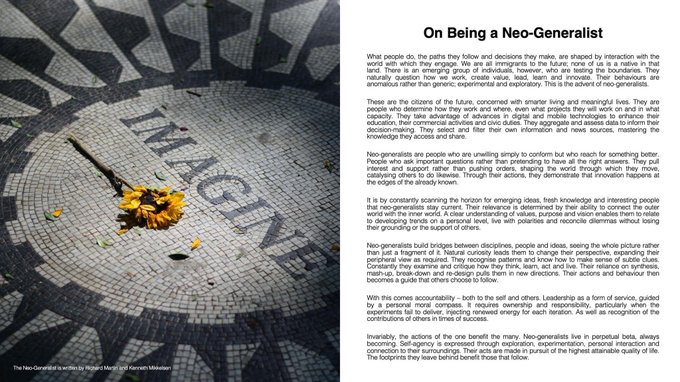 Honoured to be part of the book 'The Neo-Generalist', and to re-read it over time to make sense of ourselves and with other 'tricksters'.
"They live in perpetual beta, always becoming."
How we shape ourselves and our legacy regarding the context and timing matter for us, methinks.
"Living an examined life – to push the boundaries of our imagination and shape a better future"
Figuring this out is the challenge in our modern and changing world. 
Explorers
"An example of the mind and body working together to literally go farther. How we move through life physically is how we move through life mentally and emotionally (and visa versa).
Having an adventure mindset. Persistence. Adapting. Keep going. Challenging ourselves. Knowing our limits when trying. Travelling. "Having an adventure on my bicycle." Exploring the world and ourselves.
Now Of Work
"The line between the future of work & the n

ow of work

have been blurred for a while. What was impossible only a month ago has become not just "doable", but absolutely required. We could be seeing a permanent shift in how people feel about (and perform) work." — Dr Jen Frahm
"Think of your work projects as a program and now delve into the following questions:

"(…) How can we be transparent with our work and thinking (how can we work out loud?" — Helen Blunden
Onwards.
Enjoying my posts?
Get in touch to discover how we can work together.
https://rotanaty.com/wp-content/uploads/2020/04/IMG_20170604_114916.jpg
3120
4160
Rotana Ty
https://rotanaty.com/wp-content/uploads/2018/08/Rotana-Ty-Logo.png
Rotana Ty
2020-04-12 14:51:12
2020-04-12 14:56:46
Shifting