What caught my attention on the week 17 of 2020.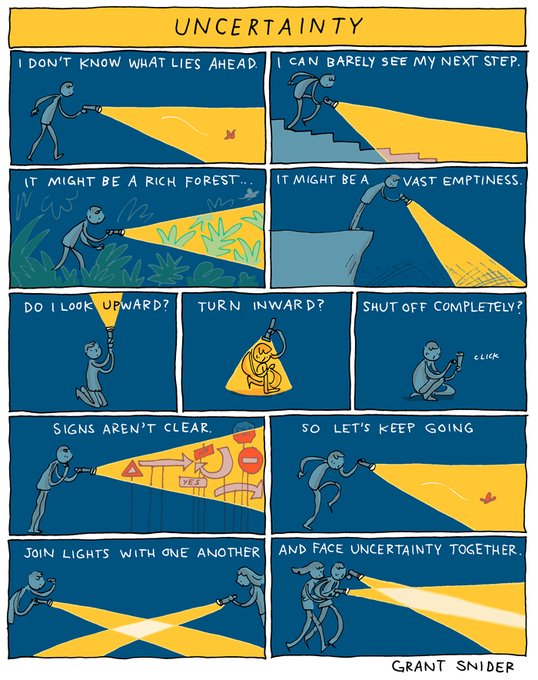 On Uncertain Times & Deliberate Decision Making
I am mentioned in this blog post from Antacara Frontiers :
"On Tuesday 7th April we hosted another 21st Century Explorers Community conversation (via Connectle) around the topic of Embodied Exploration – How our physical, emotional and cognitive states are all connected and when working holistically together can drive us farther towards our frontiers. (…)

In this current uncertain time, I have found my mind, my thinking mind, to be overworked. I have a mental check-list that I'm ticking off and although having this to-do list to refer to is in some ways reassuring, I realised after the exercise with Sandra that it very seldom involves considering how I feel or what I really want. (…)
Rotana Ty led us into a conversation about physical movement and holistic health – the connectedness of our bodies and minds. Right now we have been given an opportunity to act, live, and move with more purpose – we have an opportunity to reflect on how our actions (our daily movements and routines) make us feel. We have an opportunity right now to create our own certainty, in these uncertain times, in every decision we make.

We've also been given the gift of time. Time that used to be taken up by traffic, long meetings, or school-runs.

Time.

Time to realise that life doesn't happen to you, you happen to life. When your whole life has been placed into one bubble, one space, you quickly begin to notice how every choice you make (and don't make) affects your physical, mental, and emotional state. 

Time.

Time to think. Time to feel. Time to make more deliberate choices."
The Long Game
In France the end of lockdown is planned for May 11th 2020. I will see how things go from that period. In the meantime I have read this blog post from Dave Pollard, that is full of insights to mull over:
"Will nothing ever be the same again? What does this all mean for the longer-term situation for our struggling planet and its human civilization? The poster at the top of this post summarizes some of the fervent hopes that have arisen out of this crisis."

Source: poster by Spanish cartoonist Miguel Brieva, reproduced in the Tyee
Good Bye, Old World
From the latest reflection from Céline Schillinger :
"So, yes indeed, these are uncertain times. Scary and painful for many. But they're also rich in learning, in emotions and reconnections. I hope we don't waste our fresh, new awareness because it is so full of potential. "Leadership as convening", as Margaret Heffernan alluded to, is one of them."
Enjoying my posts?
Get in touch to discover how we can work together.
https://rotanaty.com/wp-content/uploads/2020/04/IMG-20170818-WA0011.jpg
1200
1600
Rotana Ty
https://rotanaty.com/wp-content/uploads/2018/08/Rotana-Ty-Logo.png
Rotana Ty
2020-04-26 09:57:31
2020-07-25 11:51:22
Uncertain Times & Decision Making