This is what caught my attention on week 21 of 2020.
People
"It is way too easy to forget to give credit to those people. It is way too easy to lose ourselves in our own immediate problems. Yet, it is only by understanding all of this that we gain the perspective necessary to become social animals. In doing so we benefit. So does everyone else around us. " — @DavidAmerland
Ourselves & Ties
"Because who we are is what we make.

That spot in the world only you stand is the source of your big ideas. It's a function of your distinct history and experiences, visions, and hopes. This distinct set of ideas born of you is manifest when we are in the right social structures. When we can belong as our fullest selves. That's why Onlyness is not about the single-dimensional message of you being more you, or you finding the clarity of your voice, your own values. That is just one axis. It is also about finding the right social spaces, the ones where who you are will be celebrated. That is the context in which you can be most fully alive." — @nilofer
In projects, work we design, communities we engage. How about the webs?
"We need dialogue. Not only the interpersonal one but also the one within groups and communities." — @TeodoraPetkova
To get to know each other, to make sense together and to explore the possibilities over time, methinks. And silence to see the emergence of insights and feelings on our own and collectively over time.
Connectedness to Ourselves & with People
"We were 10 human beings from around the world taking the time to be present with one another." Our last conversation was a wonderfully reflective experience – rapidly drawing, thinking, creating without doubt and second guessing. #Connect | #Conversation | #21stCenturyExplorers " — @changingview
We had our weekly community conversation and gathering with the 21st Century Explorers Community. The topic was somatic intelligence with the facilitator, Karden Rabin. We had also another drawing exercise to focus and pace ourselves, and to make sense of one of our stories and intent for now and in the future. Like we did two weeks ago.
I draw on paper and with colourful pens my pool of thoughts and feelings.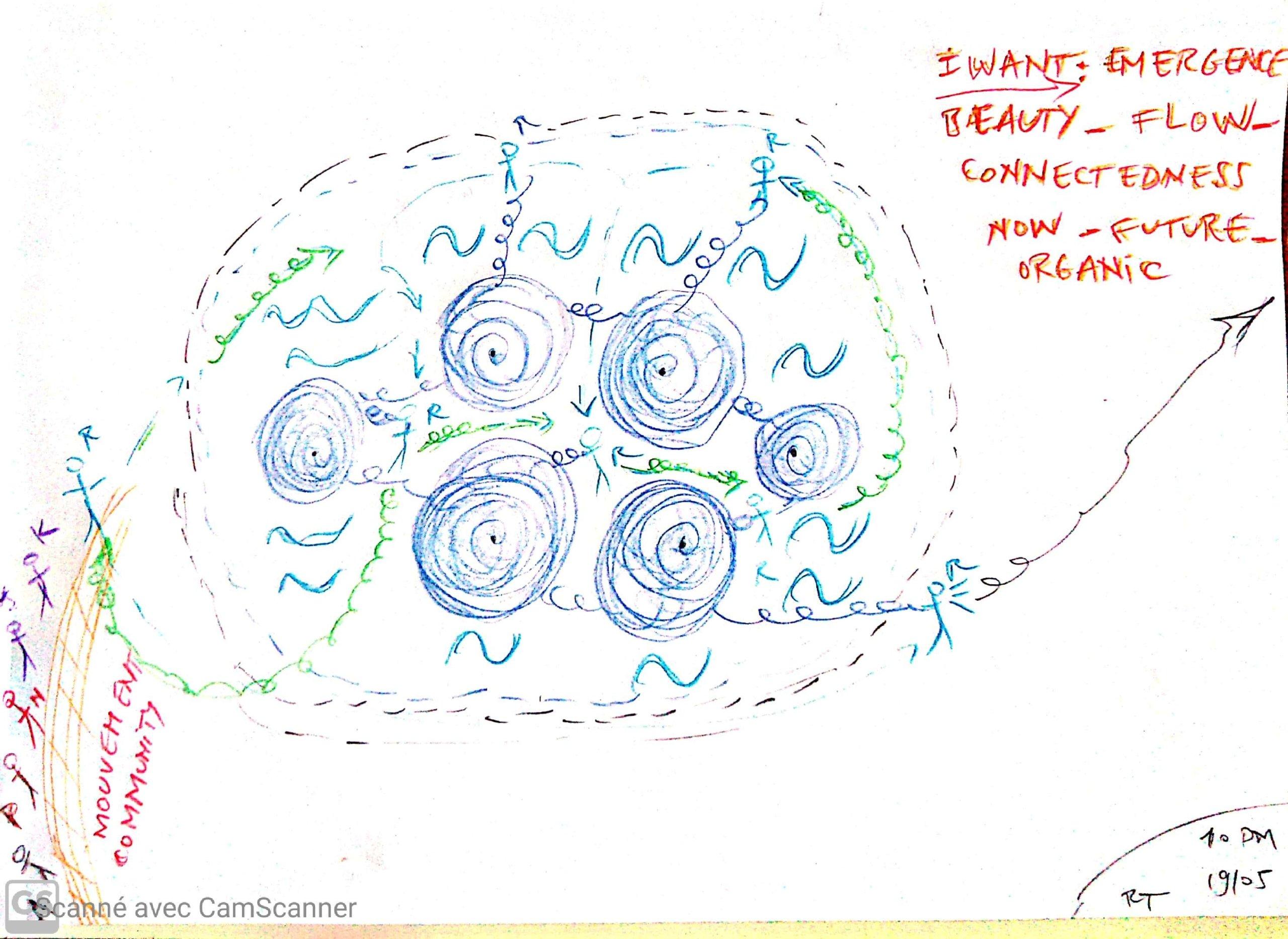 My note was turned by Klara Loots in few hours. Magnificent. Grateful.
Klara keeps highlighting and putting on spotlights insights and feelings, that are emerging from conversations and silence over time.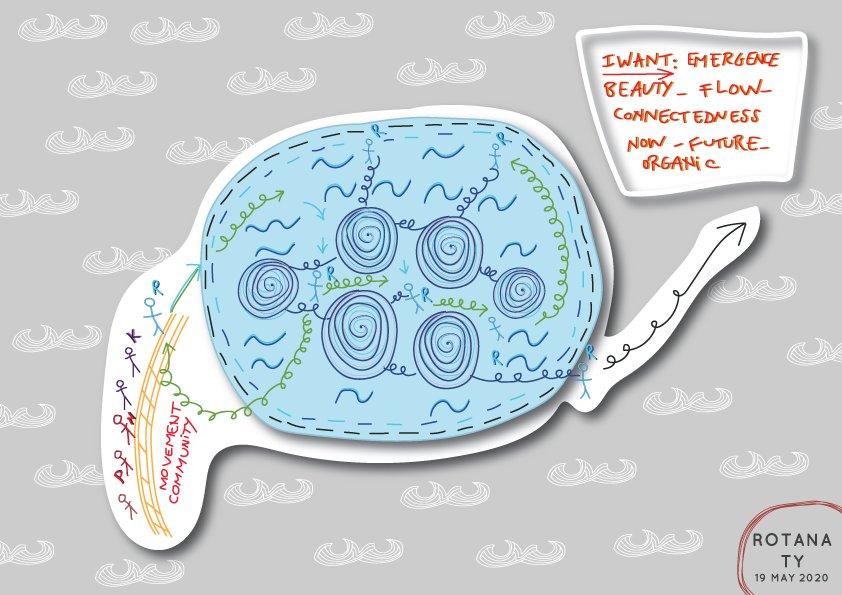 This way of doing is actually part of my #PKMastery journey and personal sensemaking routines.
"#PKMastery is like breathing in and out. We breathe in through our networks, filtering knowledge and making sense through conversations and actions. We breathe out by sharing what we know and have learned." — @hjarche 
What Matters Now
Connecting to check in.

Finding, nurturing and supporting Communities.

Collaborating and Cooperating FTW!

Contemplating to deal with Complexity, to think & do differently.

Which shifts have you made lately?
This is my takeaways from the deep blog post by @workingfuture1. Resonating louder.
Communities & Unleashing their Potentials
"In organisations, real power and energy is generated through relationships. The patterns of relationships and the capacities to form them are more important than tasks, functions, roles and positions." ~ Margaret Wheatley via @PaulJocelyn
How do we enable and foster them? #cmgr
"The foundation of community: people feeling seen, being heard and rewarded for who they are. Because when people feel valued, they share. And when people share, they become more connected and valued. https://twitter.com/i/status/1252670864321019904" — @rhappe
Enjoying my posts?
Get in touch to discover how we can work together.
https://rotanaty.com/wp-content/uploads/2020/05/IMG-20170605-WA0008.jpg
1200
1599
Rotana Ty
https://rotanaty.com/wp-content/uploads/2018/08/Rotana-Ty-Logo.png
Rotana Ty
2020-05-24 09:22:00
2020-11-01 08:44:29
People & Ties