Resources I Use
In this blog post, I ask myself: what do your modern professional learner and designer's toolkit, resources, activities and communities look like? From time to time, I find it worthwhile to update and turn it into resources to use and iterate while experimenting and doing projects. To me, resources can vary from:
Actionable insights and contents
Communities – online and offline
Interesting networks/people
Tools – digital and analogue
Of course, they are complementary regarding the context and what needs to be done. Below, here are the latest tools and resources I use.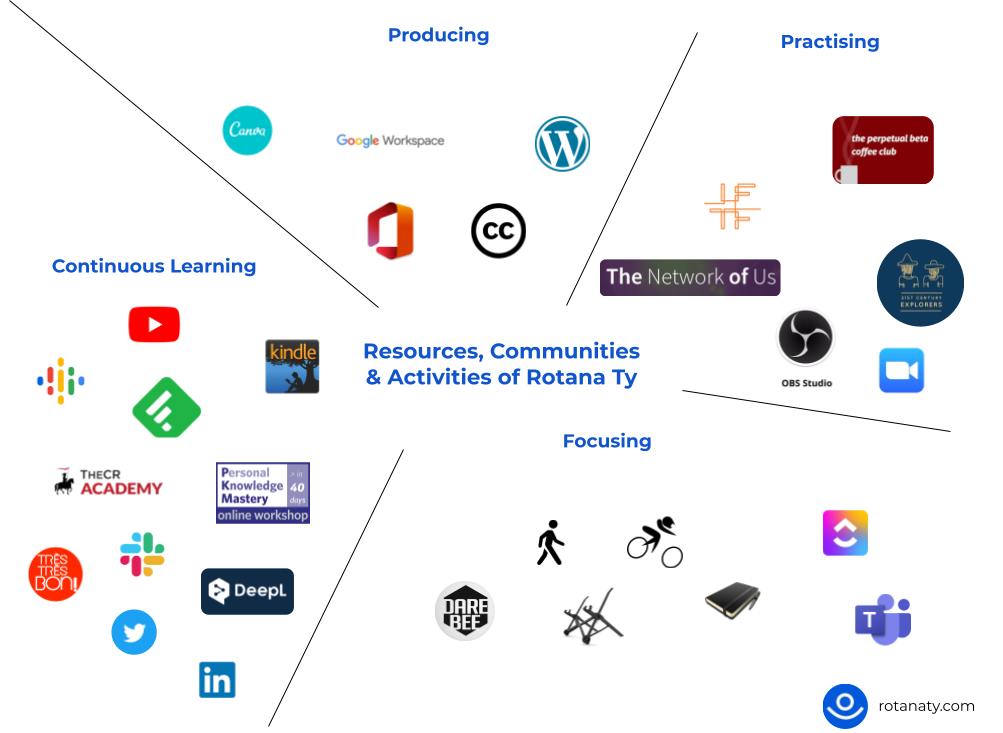 Deepl: translating any content using machine learning and my human skills.
Slack: using for my personal knowledge mastery. Easy to search and retrieve anything. Ability to export the content curated and created.
Feedly: reading blogs, newsletters and news from my favourite and diverse sources and people.
Youtube: building my own playlists to dive deep into topics from subject matter experts over conferences, webinars, talks, meetups, live Q&As, how-tos.
Zoom: reliable to use for coaching sessions, meetings, live events such as co-creation sessions, kick-off, onboarding, virtual peer assistance. Using the recording for replay.
Twitter: learning and engaging one conversation at a time, asynced, live over Twitter chats and lists. Retrieving bookmarks and using search to use tweets to turn into task or blog posts. Somehow doing the same but on a less frequent basis with Linkedin.
Clickup: responsive and easiness to use to be productive and keep track of my learning/workflows. To stay focused, too.
WordPress: a reliable tool to clarify and share my learning / working out loud. Deep thoughts. Research. Owning my data.
Google Docs, Sheet, Slides, Jamboard, Sites to produce, search, manage, review and refine content productions.
Miro: mapping routines, timelines, processes, visions.
Canva: creating bingo, posters, covers, infographics, social posts, collage.
OneTab: Chrome extension to manage and access quickly to daily bookmarks I use.
Analogue: using paper books, printed newspapers, posters, radio, exhibitions, paintings, pen and Moleskine, biking and walking to nurture my creativity, reflection and serendipity.
Darebee: staying fit and healthy.
Podcasts: listening on the go to share actionable insights from deep conversations that caught my attention.
Kindle: managing my bookshelf through reads, read laters, readings, and using highlights for upcoming book reviews.
Personal Knowledge Mastery
"I suggest that all professionals look at their seeking knowledge, sense-making, and sharing practices and see what they can improve. This is the focus of the PKM in 40 Days online workshop." ~ Harold Jarche
Here is what came up after I examine mines.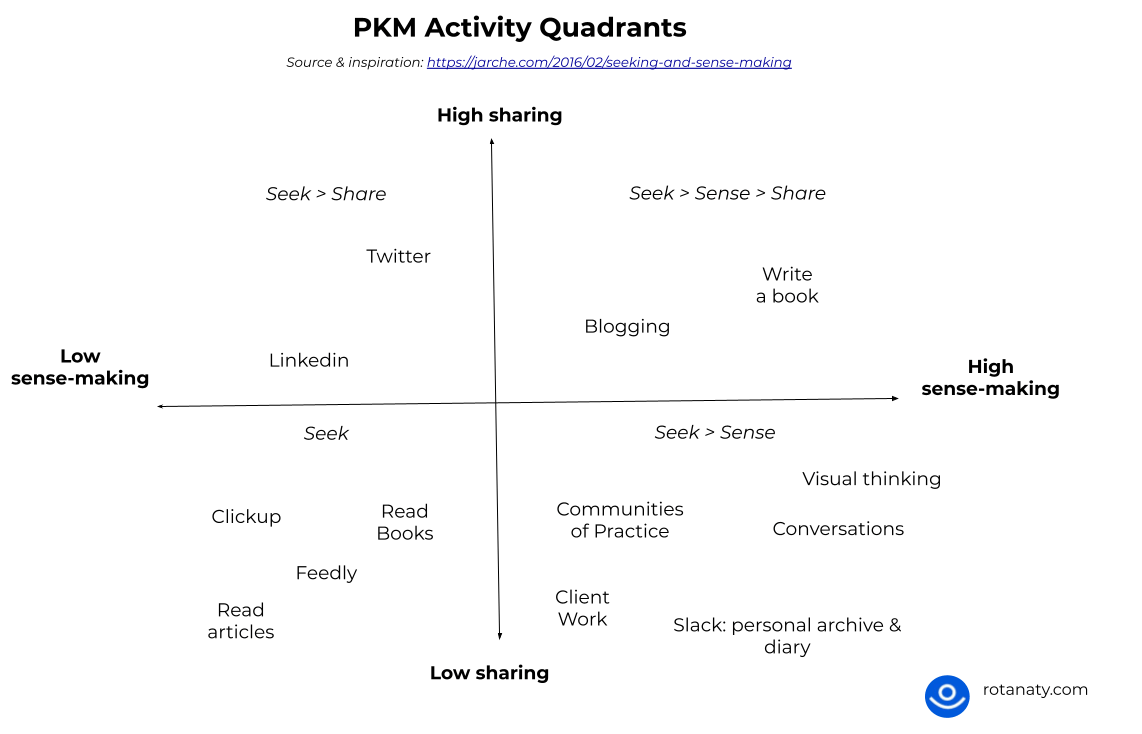 Enjoying my posts?
Get in touch to discover how we can work together.
https://rotanaty.com/wp-content/uploads/2019/03/flow.jpg
3120
4160
Rotana Ty
https://rotanaty.com/wp-content/uploads/2018/08/Rotana-Ty-Logo.png
Rotana Ty
2019-03-03 10:21:05
2021-04-25 09:29:49
Resources