● Learning
● Leadership
● Future skills
● Trends and Foresight
I am fascinated by those topics.
For 'Trends and Foresight', I think that my curiosity was triggered when I was followed by @gleonhard on Twitter.
Then I started diving into the series of blogs posts on foresight by @VenessaMiemis, and especially this one: Essential Skills for 21st Century Survival: Part 4: Foresight
"::Foresight::

The ability to develop foresight is a cornerstone for forward thinking individuals and change agents. I can say that on the personal level in my own life, when I did not have a clearly defined goal or vision of what I wanted or where I was going, I floundered. My ability to "see" potential opportunities or pitfalls was clouded, and I fell into a rut or holding pattern in life. Then, when those wild cards and "black swan events" did occur, I was completely blindsided and unprepared to handle them. I think this applies at the individual as well as the organizational level.

So what exactly is foresight? Here are a few definitions from the wikipedia page on Foresight (Futures Studies):

– critical thinking concerning long term development
– debate and effort to create wider participatory democracy
– shaping the future, especially by influencing public policy

These components can also be restated as follows:

– futures (forecasting, forward thinking, perspectives)
– planning (strategic analysis, priority setting
– networking (participatory, dialogic) tools and orientations

Essentially, foresight the ability to see "the long view;" to look at information from the past and present, extract the patterns and lessons, and use them to inform decision-making in order to impact the direction things go into the future. There are a range of tools for foresight, the most common being: environmental scanning, trend analysis, brainstorming, modeling, gaming, visioning, and scenario development. Scanning was already covered earlier in this series, so here is a brief overview of the others."
How about the principles for thinking like a futurist? Marina Gorbis, Executive Director of the Institute for the Future have introduced them in a blog post.
"In my twenty years at the Institute, I've developed five core principles for futures thinking:
Forget about predictions.

Focus on signals.

Look back to see forward.

Uncover patterns.

Create a community."
She concludes her article with those thoughts:
"At its best, futures thinking is not about predicting the future; rather, it is about engaging people in thinking deeply about complex issues, imagining new possibilities, connecting signals into larger patterns, connecting the past with the present and the future, and making better choices today. Futures thinking skills are essential for everyone to learn in order to better navigate their own lives and to make better decisions in the face of so many transformations in our basic technologies and organizational structures. The more you practice futures thinking, the better you get. The five principles outlined above—not focusing on predictions, uncovering signals, understanding historical trajectories, weaving together larger patterns, and bringing diverse voices into the conversation—should help you on your journey of making futures thinking a way of life for you and your community."
Back in the days, I was also interacting with another futurist via Twitter, @DrLizAlexander as she published an ebook on 'How to use a Futurist' in collaboration with peers / futurists in her network. After I read it, here the visual synthesis that I did below.
So 'Trends and Foresight' is a topic du jour that has always been on my mind somehow over years. I also participated to a webinar brought by @IFTF on foresight. It was fascinating to hear and see via Zoom how Microsoft is exploring the futures and the possibilities.
"Ming-Li Chai is Principal Design Researcher, and Harald Becker is Director Industry Engagement & Research. They spoke about how they create, communicate, and inspire their colleagues, partners, and users with foresight and insight."
Does foresight start with seeing the world through fresh eyes?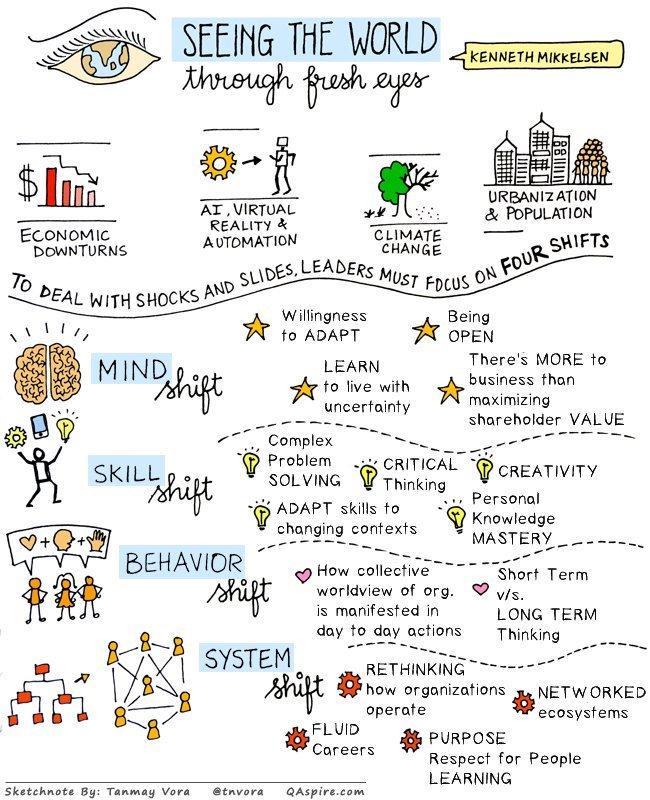 Source: Sketchnote by Tanmay Vora, shared by Kenneth Mikkelsen on Twitter
Enjoying my posts?
Get in touch to discover how we can work together.
https://rotanaty.com/wp-content/uploads/2019/04/DSC_0040-e1554192984556.jpg
6000
4000
Rotana Ty
https://rotanaty.com/wp-content/uploads/2018/08/Rotana-Ty-Logo.png
Rotana Ty
2019-04-02 08:19:18
2019-11-01 10:31:42
On Trends & Foresight