Among a few other online communities, I am part of the 21st Century Explorers Remote Community, that is facilitated by Jillian Reilly from Antacara Frontiers. Every week we gather together over a live video call and via Connectle.
This week was about mapping our paths into the unknown. The co-facilitators were Jillian and Moyra Mackie.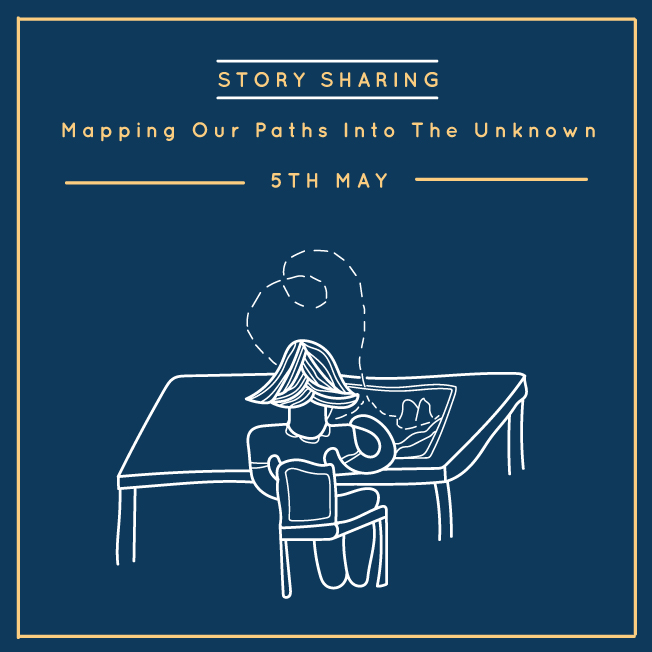 Source: Antacara Frontiers
I enjoyed it even if I was mostly quiet and recalibrating after a long day working remotely on a project with a small team. I was observing and listening to the insights, stories and experiences from the participants as if we were around a campfire.
My mic was muted. My camera on. I did not really use the chat and jump into the live call. I was observing and mulling over my thoughts and questions.
I also appreciated the writing and drawing exercises, that were enabled and encouraged by Moyra Mackie. Brainwriting, sketching, drawing on your own with people remotely. What a creative and fun way to learn, make sense and relax together.
En aparté I do so as well one week at a time collectively over a video call and scribbles on an online Pictionary game with my loved ones. We always laugh a lot, play a lot and have fun while using our fingers, mouses or digital pens on our devices.
Back to the digital campfire… I took notes with my hands, pen and a piece of papers. It was messy. The two writing exercises helped me to relax. It helped me to make sense of one of my stories.
The day after the live call Klara Loots, a creative marketing manager from Antacara Frontiers, got back to me with Jillian to ask if it would be ok to share my visual paper notes. I did show during the live community call to few participants who stay at the end of the call my paper notes.
My correspondence with Klara continues over typing, words and scans of my visual notes. The intent of Klara was to turn my messy notes into digital artefacts with the creative and artful signature of Klara and Antacara Frontiers. Building on each other strengths and creativity FTW!
Check out below the magnificent artefact from Moi x Klara.
First Reflective Writing & Drawing Exercise
What do you think? What do you feel?
Source: digital artefact produced by Klara Loots based on the analogue visual note from Rotana Ty
Second Writing & Drawing Exercise
As Jillian guided us one word at a time each of us picked one story in our lives.
I decided to revisit: what does my learning journey look like?
Source: digital artefact produced by Klara Loots based on the analogue visual note from Rotana Ty
Impact of Social Learning Handbook & Workshop on moi
Back in the day Jane Hart @C4LPT inspired me so much to shift myself as I share in this visual note, and later with her over tweets.
"Thanks for sharing, @rotanarotana. Great to see C4LPT on it, and how it has helped you. https://twitter.com/rotanarotana/status/1259352013017579521" – @C4LPT
My gratitude to Jane Hart:
With pleasure. Your social learning handbook and workshop have triggered mindset, behaviour and skills shifts for sure. 🙂 – @rotanarotana
Stay tuned
Visual notetaking is a way to make sense of ourselves and our world. As a word person and visual thinker it is one of my personal routines to do so. In an upcoming post I will share thoughts on blogging. What's in it for moi and us?
Enjoying my posts?
Get in touch to discover how we can work together.
https://rotanaty.com/wp-content/uploads/2020/05/DSC_0169-scaled.jpg
1707
2560
Rotana Ty
https://rotanaty.com/wp-content/uploads/2018/08/Rotana-Ty-Logo.png
Rotana Ty
2020-05-10 19:38:03
2020-11-01 10:05:57
Shifting Story