What we value: insights and actions from some nodes in my network
On Kindness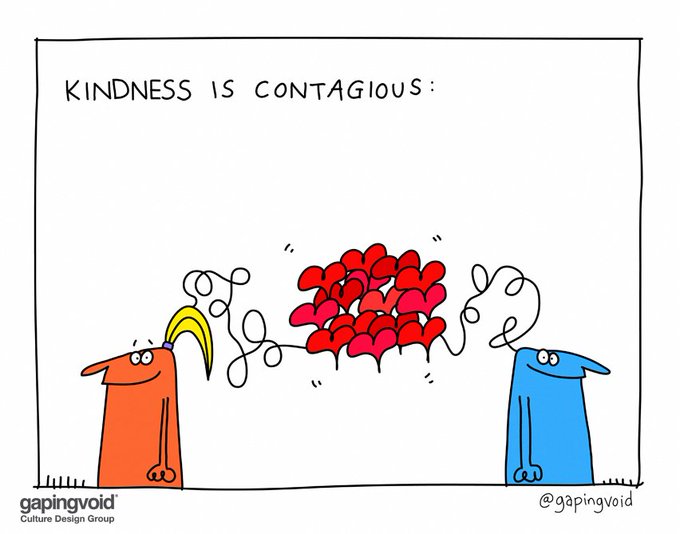 It is always so fun and insightful to meet up with Paul Simbeck-Hampson, who is a kind and classy coach, friend and learning partner over the years. This is what we did this week remotely.
On the Value of Blogging
"(…) blog as a boundary object that can connect different knowledge domains and different social networks just because its author chooses to write on a range of themes from a variety of own roles and identities." — @mathemagenic
Fun, insightful and rewarding to do so over time to build and use our own cornucopia. I met Lilia Efimova over the PBCC Community Chat we had bi-weekly and now monthly, facilitated by Harold Jarche. Good to connect with her via Twitter and to dive into her latest blog posts. Deep thinker and explorer.
On the Value of Dialogue
"We need dialogue. Not only the interpersonal one but also the one within groups and communities. Scholar Magda Pieczka defines these, following Linder's two classical models of dialogue: the Socratic and the Athenian. "While the first one is defined as Socratic interrogations in pursuit of self-knowledge and virtue', the latter refers to Athenian deliberations for collective governance' In short, they represent two directions present in the western conception of dialogue: inquiry and will formation" (see: Public Relations as Dialogic Expertise?)" — @TheodoraPetkova
We need dialogue to get to know each other, make sense together, and explore the possibilities over time, methinks.
I also had this week a long, lovely and insightful thread with Theodora Petkova following up the share of her blog post. Dive in.
On Meetings & Beyond
"Meetings should have an objective, a clear format, and be run by a competent person to facilitate the process. Most importantly there must be a clear reason why the meeting is necessary in the first place. Quite often, an alternative would be more effective than calling a meeting — e.g. one-on-one conversation, email, wiki, blog, discussion thread, etc." — @hjarche
On Learning Engineering & Beyond
"Learning engineering is applying learning science to the design of learning experiences, but it's the design as well as the review. It is iterative, but it's broader than just the course too. It's about the technology, infrastructure, culture, and more. In either interpretation of learning engineering, it's more than just being a reflective practitioner." — @Quinnovator
Learning engineering is also intertwined with community management. This is a discipline and space I am currently exploring by learning by doing, upskilling myself and with other professionals in that space. I had a lovely and helpful conversation with Birdie Hansen from @TheCR this week. I intend to be better equipped and thrive in that discipline of community management and over community projects that I instigate on my own and with my ecosystems.
https://i0.wp.com/rotanaty.com/wp-content/uploads/2020/05/2016-11-20_09-26-04-scaled.jpg?fit=2560%2C1920&ssl=1
1920
2560
Rotana Ty
https://rotanaty.com/wp-content/uploads/2018/08/Rotana-Ty-Logo.png
Rotana Ty
2020-05-29 20:09:58
2021-07-25 11:02:15
What We Value