When time allows, I share gems from my network and outside of it.
"We have to continually be jumping off cliffs and developing our wings on the way down." — Kurt Vonnegut
Non-Linear
Unknown. Infinite loops. Exploratory. Learning Curves. Entanglement.
What do you see to imagine?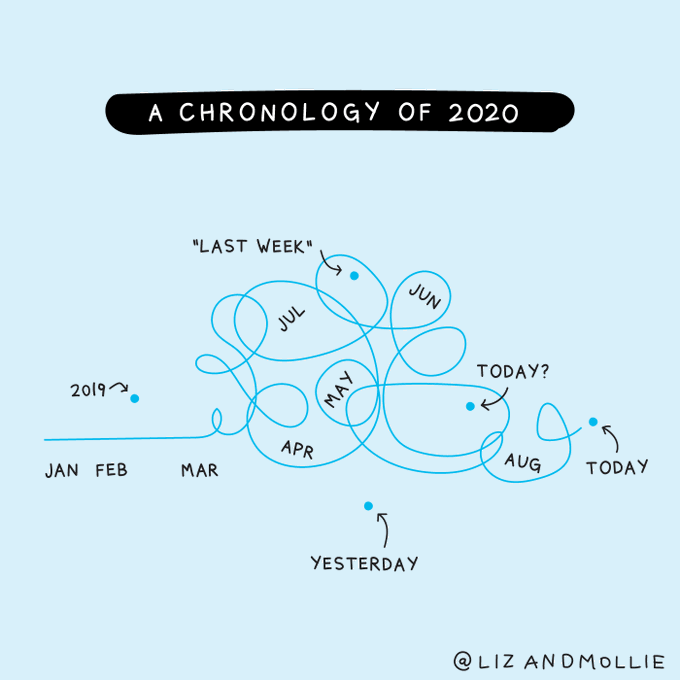 Source: @lizandmollie
The Purpose is the New Profit
"Now that it was crystal clear that I was craving for a sense of meaning, I was resolute to keep laser focused and not get lost along the way — or if so, purposefully lost, which would ultimately guide me in my quest." — @sabouraoui
Step Back to Grow
While it is true there are many people who have an interest in us, you and I are still the majority share stakeholders in ourselves. The learning curve we're on has to work for us, first and foremost. Learning to manage the expectations of others, and stand up in face of them, is a hallmark of maturing as an autonomous human being.

Stepping back whenever we feel it is needed is necessary to our growth. Our biases are always moving forward and up. However, there is a lot going on in the arenas adjacent to where we are now, inviting lateral or sideways moves. And, the greatest opportunity for growth often opens up by moving back or down.

The whole idea behind disruption is that we are on horizontal and vertical—x and y axes—of growth. We anticipate that a step forward in time will be accompanied by a complementary step up. Over one, up one. But sometimes, a step back can position us differently so that in the future, each step over results in two steps up, or three, or five.

The step back is a springboard for greater momentum, and for compounding, rather than linear, growth." — @johnsonwhitney

Togetherness
How do we regain our natural curiosity and creativity, love for continuous learning, develop our personal growth and resilience? Via small caring learning communities.
"@rotanarotana: Those nice folk over at @gapingvoid often have the answers! Thank you @hughcards" — @simbeckhampson
Building more Effective Adaptive & Learning Organizations
"Community / networks and collaboration:

Starting communities of learning from points of interest

Communities of practice enable people to have their stories shared and heard

Allowing people's voices to be heard." — @MichelleOckerz
Embracing Diversity
"Empathetic communities and organisations embrace the diversity of human experience. They don't ask people to cut off their capabilities to fit into boxes of roles or emotional straight jackets. These communities embrace the diversity of human experience because it is both functional and a path to enabling people to realise their potential." — @simongterry
Riding the Waves
Source: Graeme Mackay
Making Sense of our Endings
"Passing time in the neutral zone means working to be present in the now. Acknowledging the past, but not racing to put plans in place for the future. Allowing space for new ideas to emerge. Uncertainty and 'not knowing' are places of potential and possibility. It's where the magic happens.

Learning to lean into this is a better marker of longer-term resilience, as psychologists will attest. 

And so, as we head towards autumn, with no clarity in sight, let's make sense of our endings. Let's acknowledge our mental load – you'll feel liberated, I promise. And when we head into the neutral zone, we can really get started on building a better future." —  @workingfuture1
On the Edges
"We are standing at the edge of a raging river, the end of the path we were on is gone… lift your eyes up, we don't have a map for the path we are on. And there are much better paths that lay ahead of us." —  @heathermcgowan HT @TheCR
https://i2.wp.com/rotanaty.com/wp-content/uploads/2020/09/IMG_20180411_150508-scaled.jpg?fit=2560%2C1920&ssl=1
1920
2560
Rotana Ty
https://rotanaty.com/wp-content/uploads/2018/08/Rotana-Ty-Logo.png
Rotana Ty
2020-09-12 08:07:37
2021-08-20 15:55:15
Non-linear