It is about developing ourselves to engage ourselves and people from around the world from our local city. Building a relationship and using technology makes that possible. Whether we use asynchronous ways of synchronous ones, it is about just doing it. Over time, we can better develop people in any team, network, organisation, community – in person and remotely, methinks.
Rachel Happe, the co-founder from The Community Roundtable, underlines that:
"Communities are, at their core, the way people have always come together to learn. They provide the space, relationships, collisions, and trust necessary to create shared meaning, to iterate on emergent ideas, and to norm new patterns and behaviours." 
It matters more than ever in the world that is uncertain, complex and changing. Communities, especially communities of practice and learning communities, give the safe, trusted space to experiment, make sense as we feel seen and heard.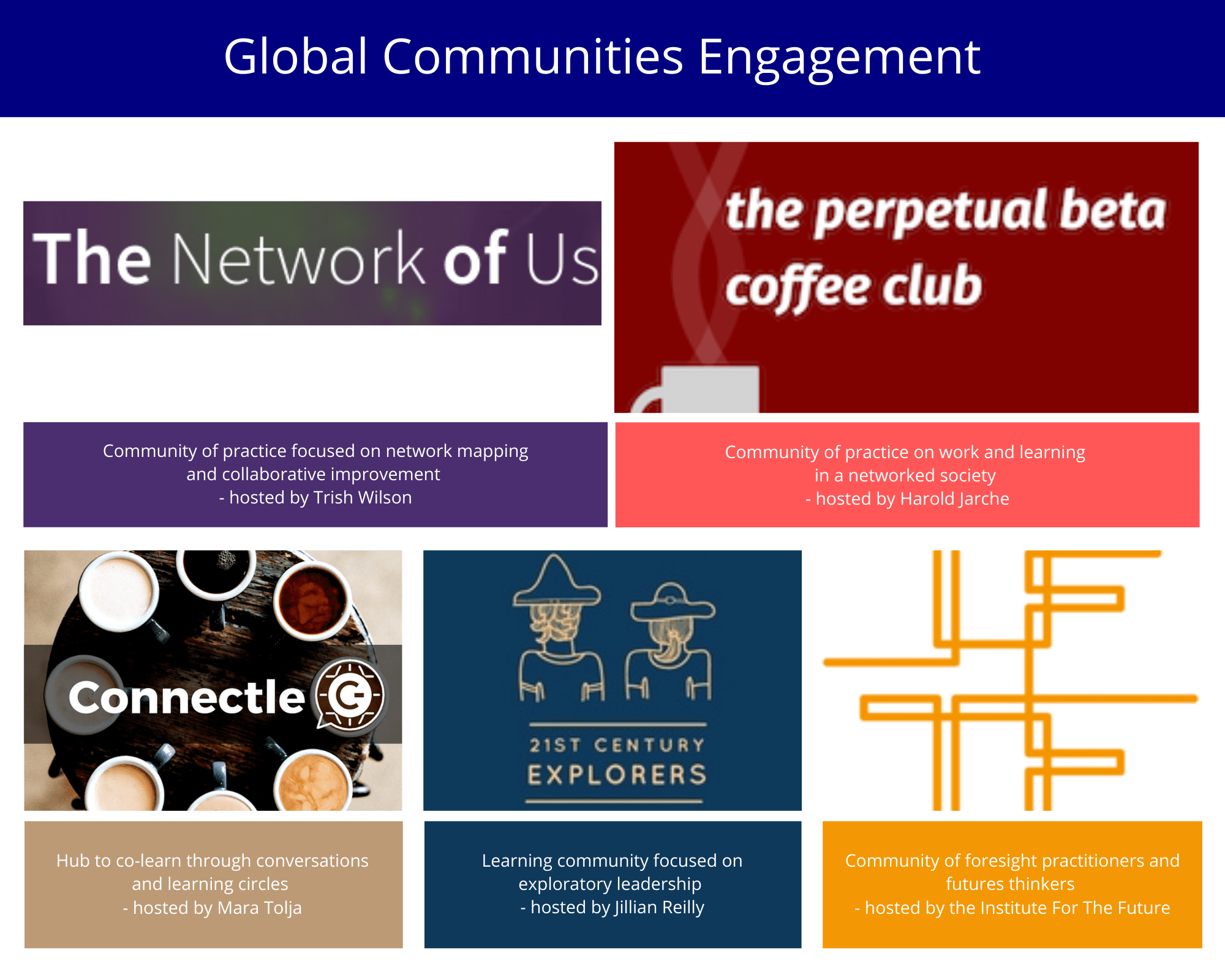 I have joined a few global communities in which I participate actively.
Perpetual Beta Coffee Club
After I completed the remote workshop 'Personal Knowledge Mastery', I was invited by Harold to join the Perpetual Beta Coffee Club, a global community of practice focused on workplace learning:
"Members are from Australia, Brazil, Canada, Denmark, Finland, France, Germany, Greece, Japan, Netherlands, New Zealand, Norway, Portugal, Serbia, Singapore, South Africa, Spain, Sweden, Switzerland, UK, & USA.

We have a private discussion forum and I host live web video chats monthly. Dates and times are arranged by a monthly poll of members. These are recorded and available for a week afterwards. We try to ensure that what is discussed inside the coffee club stays there. It is intended to be a trusted space. As the club grows, I will offer more services to meet demand.

While the main focus is workplace learning, we talk about whatever interests our members — books, democracy, leadership, media, etc."
21st Century Explorers Community
I have explored the possibilities with Antacara Frontiers as I met in person in Paris the founder last year, and have continued conversations over time. I was recently invited to join the 21st Century Explorers: a learning community guided by Jillian Reilly from Antacara Frontiers and enabled by Connectle. As shared by Jillian on the overview of our global learning community:
"Gathering 21st Century Explorers from across the globe.

A community for those navigating creative journeys within companies or in the service of creating their own.

Curiously Exploring and Carving New Paths."
You can connect with explorers over Twitter and ride with us over Connectle.
IFTF Community
I completed the online course: Ready, Set, Future! Introduction to Futures Thinking, that is brought by Jane McGonigal from the Institute For The Future. It is a pretty good starting point for anyone who is interested in foresight essentials. Read on more in my blog post on this topic.
So now, I am an alumni of this foresight community of IFTF Certified Practitioners. It is active through frequent meetups, webinars, a newsletter and if we want to further specializations via other online courses via Coursera.
I'll see how it goes especially with the live conversation every month. So far so good as tweeted with a remote meetup on: "conducting interviews with stakeholders within organizations and thought leaders external to organizations who are charting their future" as put on the invitation I received.
"People can have a conversation with one another about the topic at hand. Not wasted small talk, but detailed, guided, focused interaction based on the prompt you just gave them. Later, the organizer can press a button & summon everyone back together." Experienced @iftf meet-up #5. Works well!
I have been invited by Trish Wilson, Improvement Network Catalyst and Continuous Improvement Specialist, to be part of the live conversations with change-makers across the globe.
"Network making – Connecting Collaborative Improvement People". A global network hosted by Trish Wilson. I am an active member. It is always interesting to meet and discuss with people I didn't know over questions I had no clues about before the call. There is often no roundtable, defined topics or schedule. The constraint is only the time.
My deep thoughts on global communities below with a visual I created.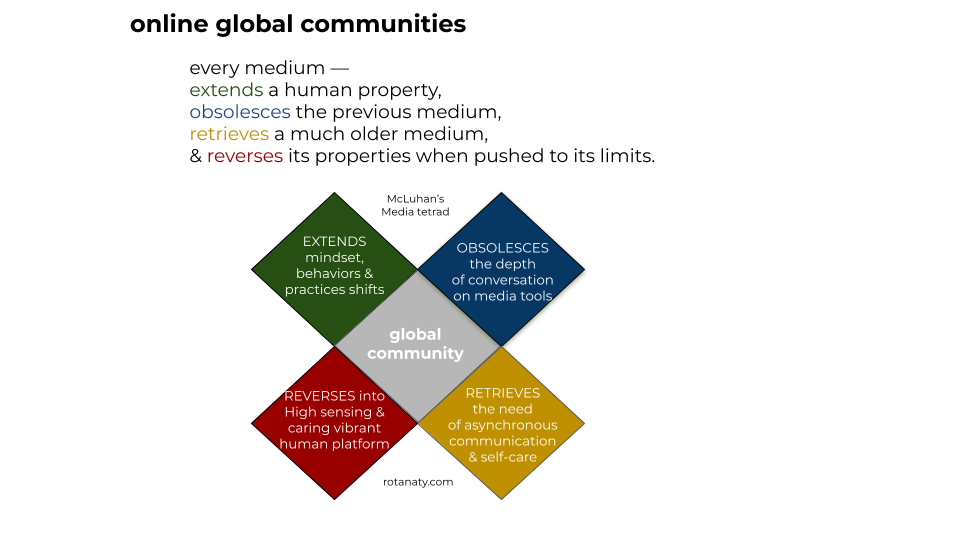 Enjoying my posts?
Get in touch to discover how we can work together.
https://rotanaty.com/wp-content/uploads/2020/10/IMG_20171228_170236-scaled.jpg
2560
1920
Rotana Ty
https://rotanaty.com/wp-content/uploads/2018/08/Rotana-Ty-Logo.png
Rotana Ty
2020-10-25 09:03:48
2021-04-21 17:59:16
Global Communities